FORGE A NEW RELATIONSHIP WITH YOUR DOG
K9 Kamp's objective is to ensure that your dog settles in as a permanent member of the family. We do this by providing dog training that is fun, safe and effective. Our director of training has worked with dogs for over 30 years and our programs are the best in our area. We give you the tools you need to peacefully coexist with your dog both in your home and in the community.
Meet Carrie and Jim
Meet Best Friends Unleashed!
I highly recommend K9 Kamp Dog Training! I sent my puppy to K9 Kamp when he was around 8 months old and have never been more thankful. They created incredible foundations for him to continue to grow into a dream family pet. Sunny is confident with other animals, children, people and overall an easy going dog!
I had them focus on counter surfing, being gentle with children, and confidently walking on a leash…. He was taught so much more than that but never jumped on my counter again!
Abby McGuire
I cannot say enough about how great the trainers are at K9 Kamp. I was very hesitant about leaving my pups for an extended period of time, but we needed help with training. We were sent daily pictures and videos of our pups in training action and also being loved. The dogs in training are taken out in real world situations, not just trained in a facility.
Michelle Lenk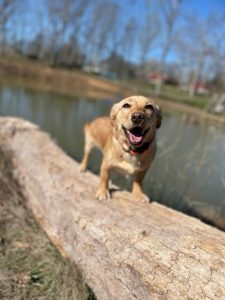 HUGE shout out to K9 Kamp Dog Training!!! We sent our dog to their 21 night board and train program and she has come back with incredible self-control and is doing so great following commands, walking on her leash, and her recall, which means YES she can now be trusted off-leash with us. She's still got her silly, spunky personality, but now she LISTENS and we know much better how to communicate with her.
KARI-ANNE SEDLACKI
We took our dog Autumn to training at K9 Kamp and she also does day camp there a couple days a week! She's a crazy Husky with A LOT of energy and the training has really helped her and us as a family. We love everyone at K9 Kamp. They are an amazing family who really do care about dogs!
Ashley Fritz
MEET K9 KAMP TRAINING TEAM
At K9 Kamp, our training team makes it their mission to bring peace to homes by training dogs everyone can love. K9 Kamp trainers are committed to helping all dog owners, no matter their level of experience, to unleash their best friend.
K9 KAMP DOG TRAINING
Our dog training programs help your dog understand how to properly interact with the world around them. Our training teaches your dog expectations, rules, and boundaries that help him or her be environmentally aware but not always environmentally engaged. We help you understand your dog at his or her core so that you can create a lifestyle that enriches both you and your dog.
OUR COMMITMENT TO YOUR DOG
We are committed to helping each family enrich the life of their dog and their relationship with their dog. We welcome each dog we train into our facility, treating them with the best care and affection. We have several steps in place to help families once their dog completes a K9 Kamp training program with us and we are always available to help with any questions or concerns.
K9 Kamp services customers all across the United States and beyond!

Check out where they come from
Meet the Team
We have some amazing people working at K9 Kamp, We're also a family-based company, meaning many of our staff are actual family, and the rest feel as close as family. So come meet the team!
Meet the Team
Training
Does your dog create constant chaos in your home and/or community?
Are your kids and other family members scared of your dog?
Have you worked with other trainers with little to no results?
Are you ready to unleash your best friend?
If you answered yes to any of these questions, we can help you. Our training programs have helped thousands of dogs all over the United States to be more peaceful in the home and in the community. Our programs are created for busy families to learn how to establish rules and structure in the home that set dogs up for success. Our families take what we instill in their dogs and use it to continue to improve their relationship. Let us help you love your dog again.  
Learn More
Puppies
We raise Whoodle puppies on our hobby farm which is located about 30 minutes outside of St Louis, MO. We have years of experience raising puppies as we bred Labrador Retrievers for many years in the past. Carrie also spent many years working for other breeders of Labrador Retrievers. With our extensive background in dog care and dog training, we are able to provide high-quality care and attention to our puppies.
Learn More