Nestled in a welcoming home just a short drive from St. Louis, MO, K9 Kamp is proud to introduce our exceptional Whoodle puppies to dog lovers seeking a truly special addition to their families. 
what is a Whoodle?
So what is a Whoodle, you ask? This charming blend of two distinct breeds brings together the hypoallergenic, non-shedding coat of the Poodle with the friendly, spirited nature of the Wheaten Terrier. Whoodles are known for their adorable appearance, playful demeanor, and intelligence. They often inherit the Poodle's intelligence and the Terrier's lively personality, making them wonderful companions for families and individuals alike.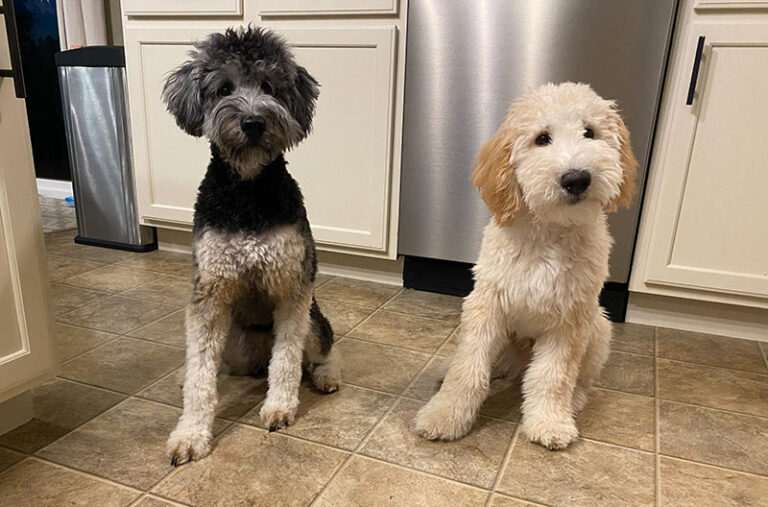 Our Journey
Our journey into breeding Whoodle puppies has been inspired by a deep-rooted passion for dogs and a desire to raise companions with outstanding temperaments and exceptional qualities. Having previously bred Labrador Retrievers, and with our founder, Carrie, having extensive experience working with renowned Labrador Retriever breeders, we possess the expertise to offer top-tier care to our cherished puppies.
Our Whoodle breeding started after raising and training a Whoodle named Bruce. This remarkable pup blossomed into a professional therapy dog, showcasing a phenomenal temperament and a hypoallergenic, non-shedding coat. Bruce now dedicates his days as a full-time therapy dog at Grain Valley Middle School in Grain Valley, MO.
Guided by this incredible experience, we've committed ourselves to raising Whoodle puppies of the highest quality, destined to be lifelong companions for families. We also offer the option to have your Whoodle pup trained by our experienced team before they arrive at your doorstep. Learn more about our Polished Puppy Program.
Beyond being exceptional family pets, our Whoodle puppies exhibit great potential as therapy dogs, service dogs, and facility dogs, embodying the spirit of true companionship. As part of our dedication to giving back, we donate professional school therapy dog training for at least one puppy per litter to a school or its employees. This commitment reflects our passion for enhancing lives through the unique bond between humans and dogs.
Puppies Looking For a Home
We currently don't ahve any puppies available. Please keep checking back, or take a look to see if we have any puppies going through our Polished Puppies Program available on our Polished Puppies page.